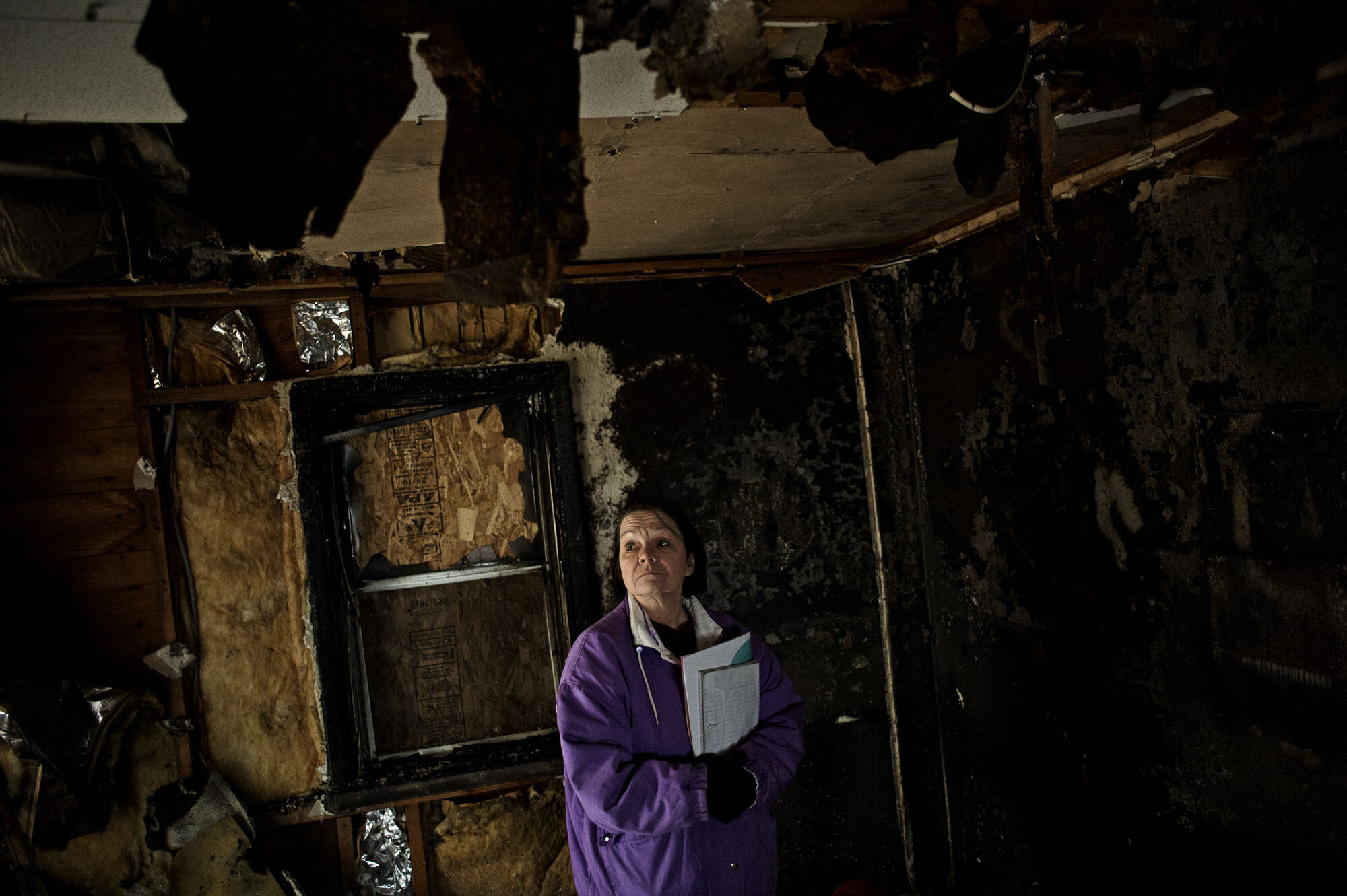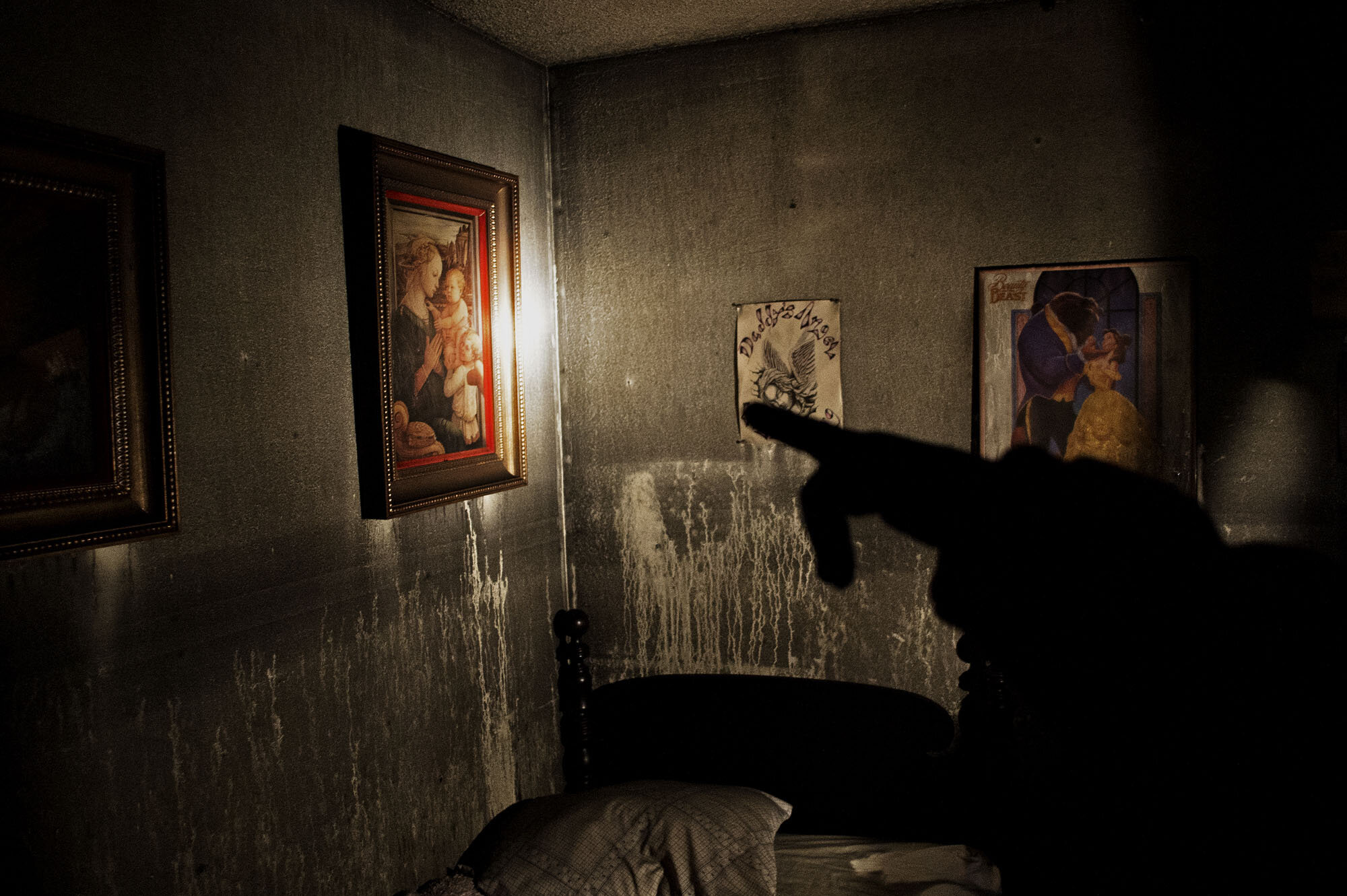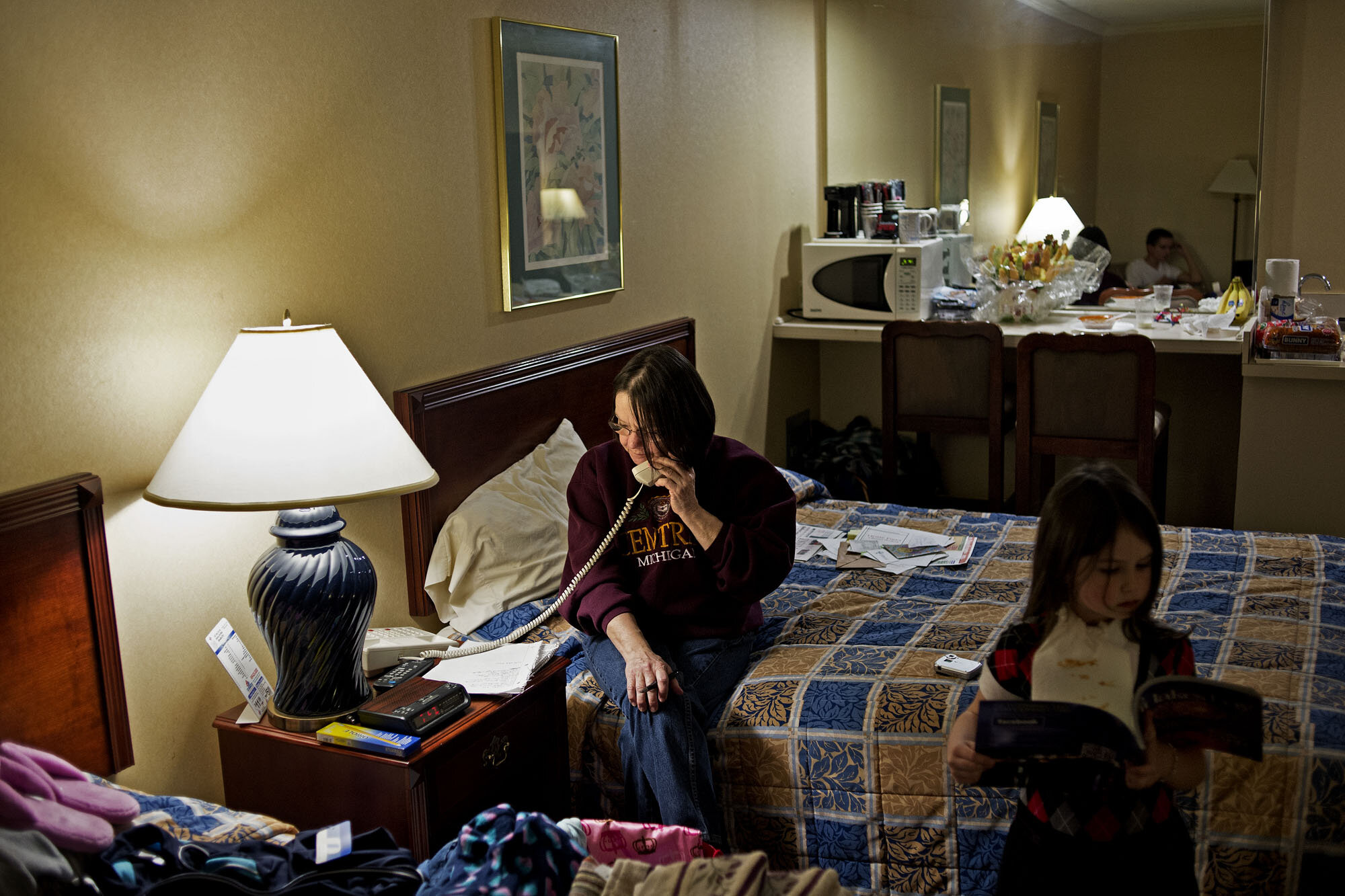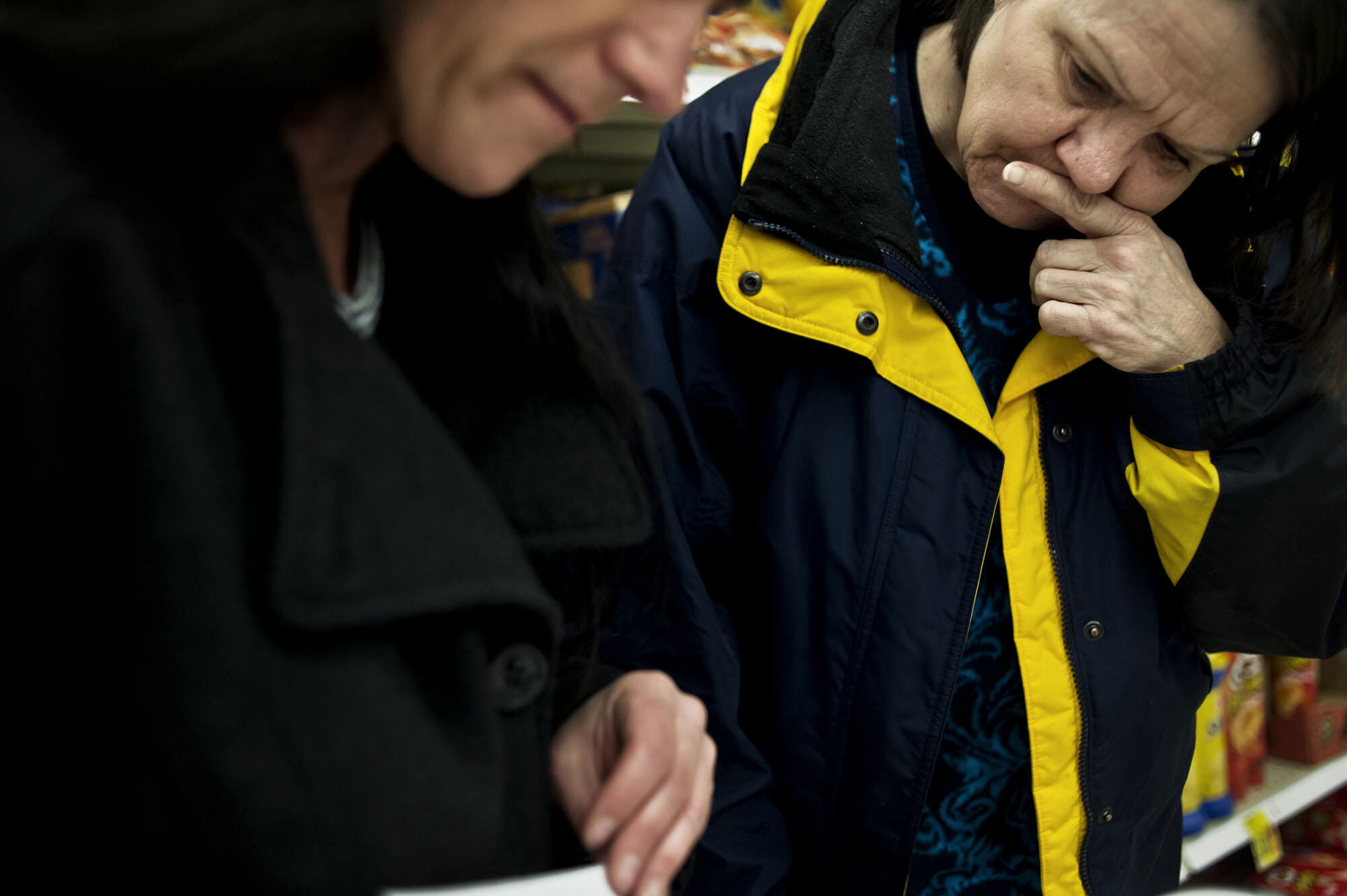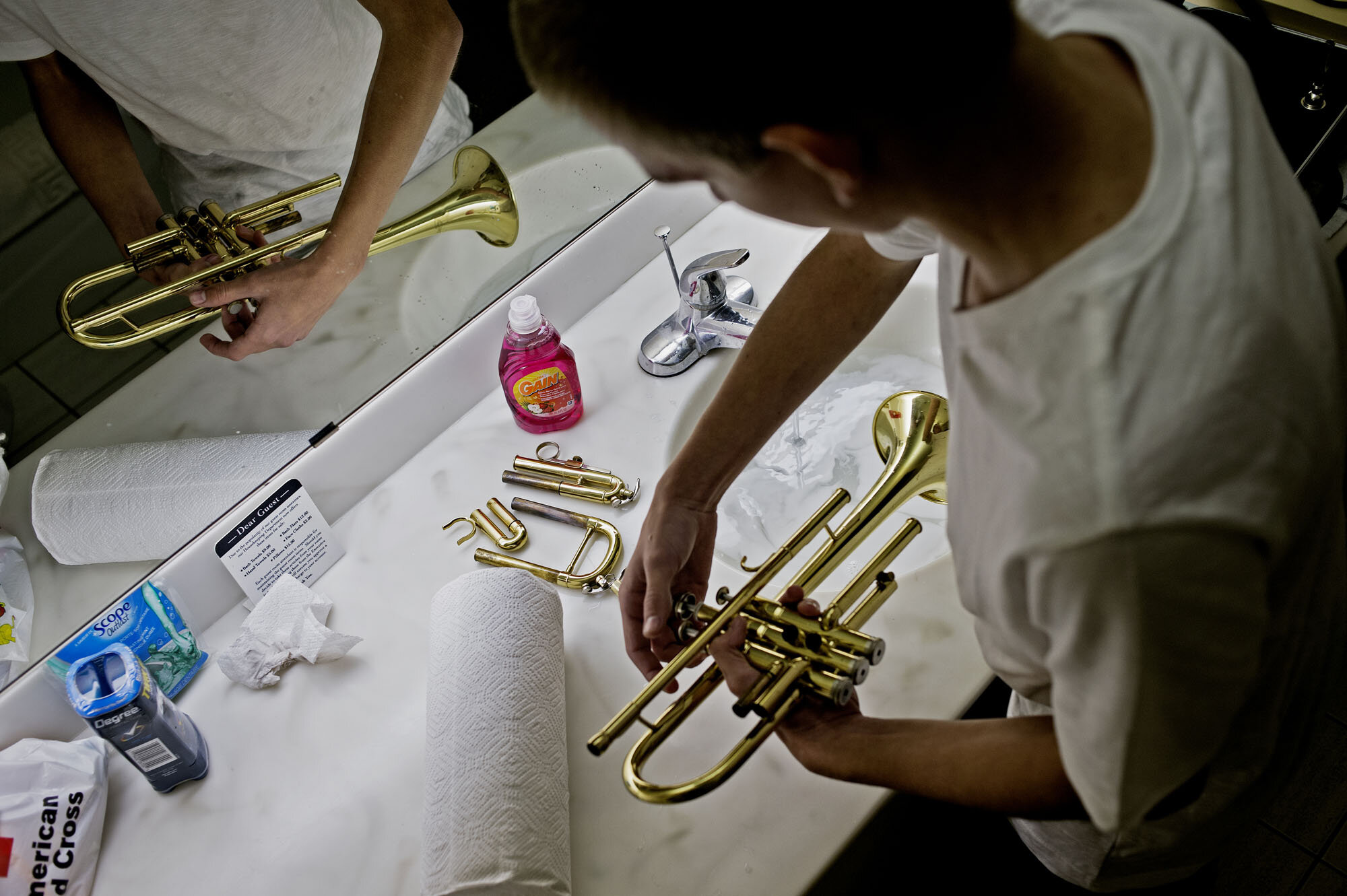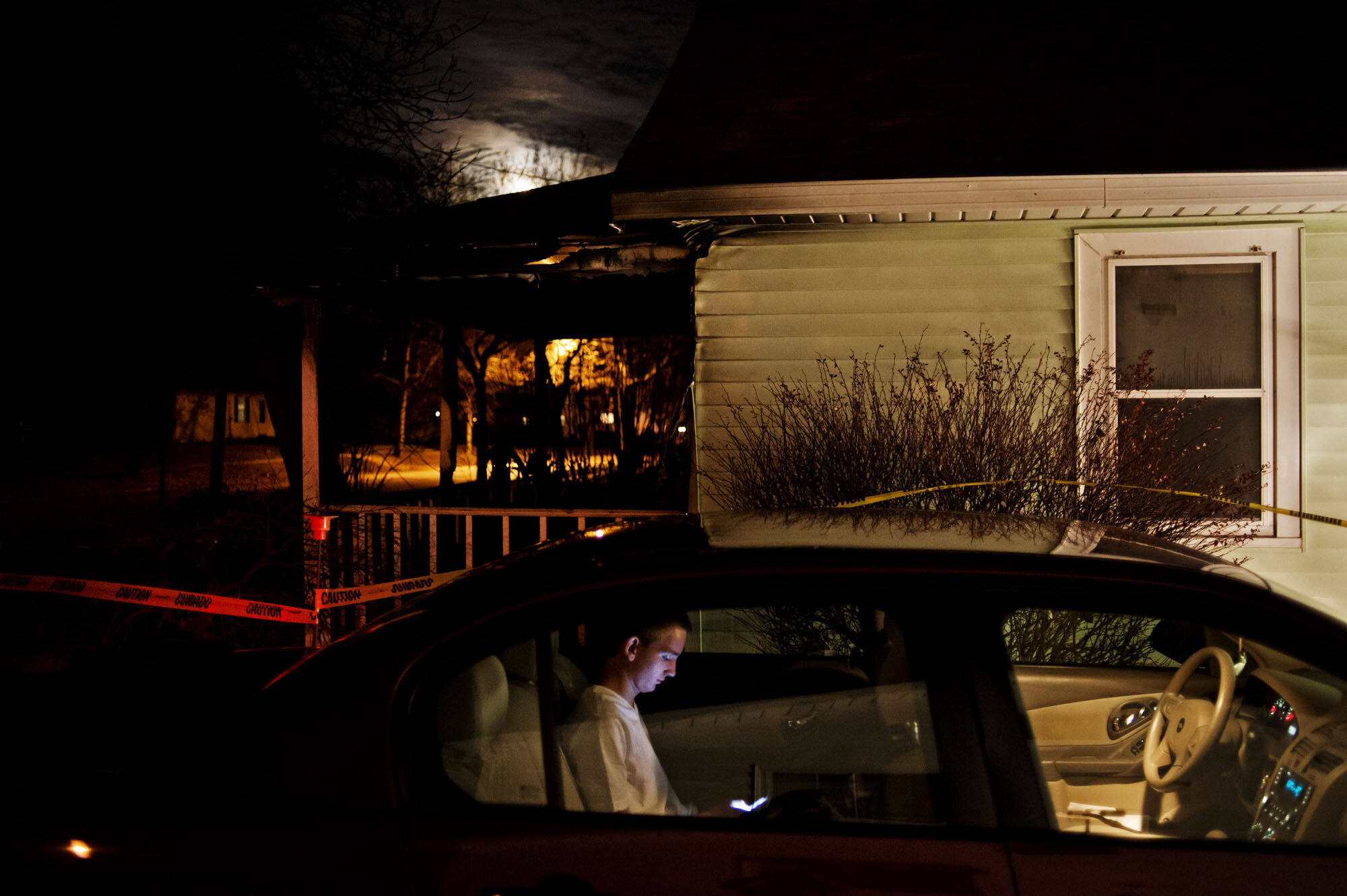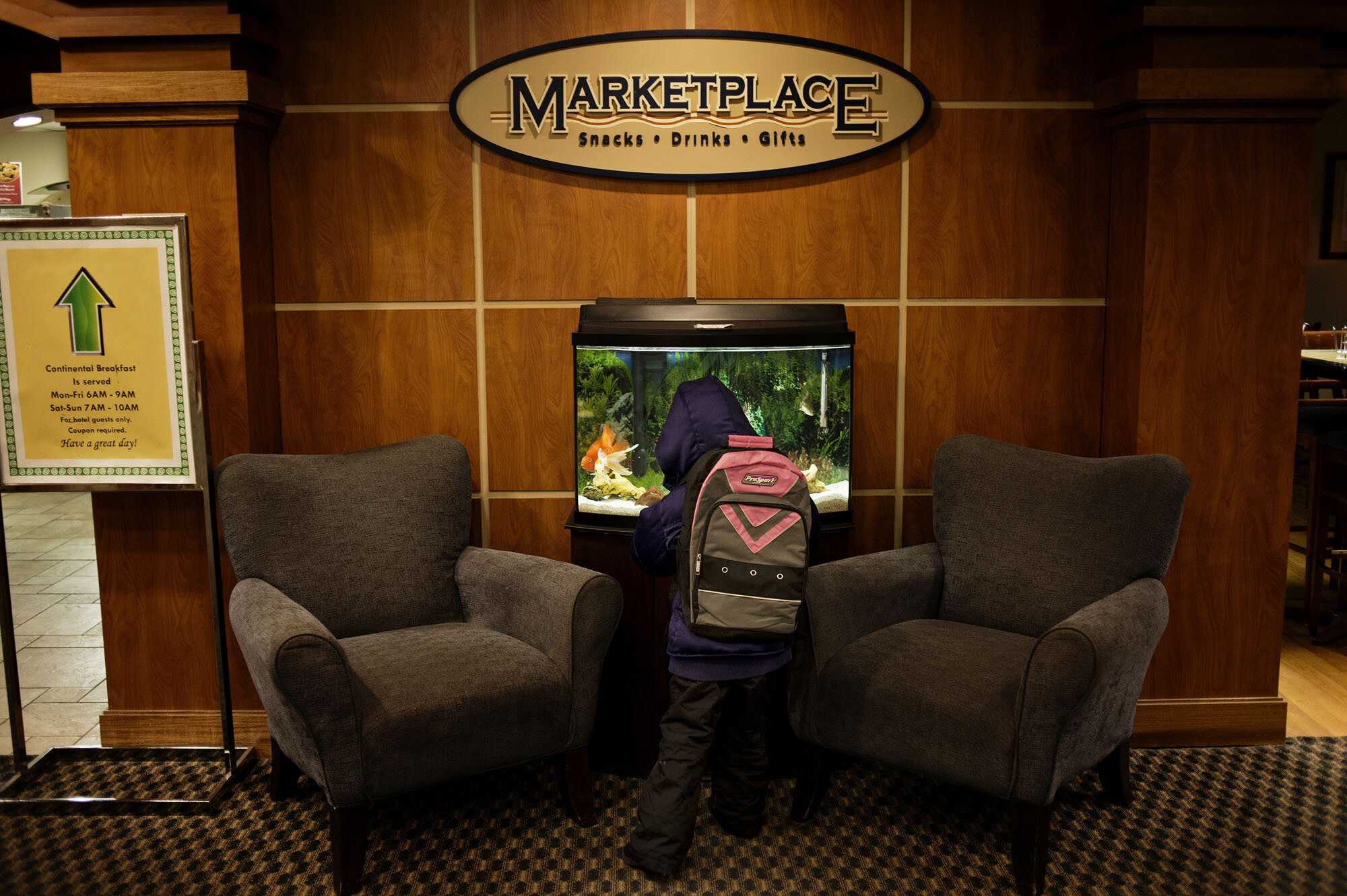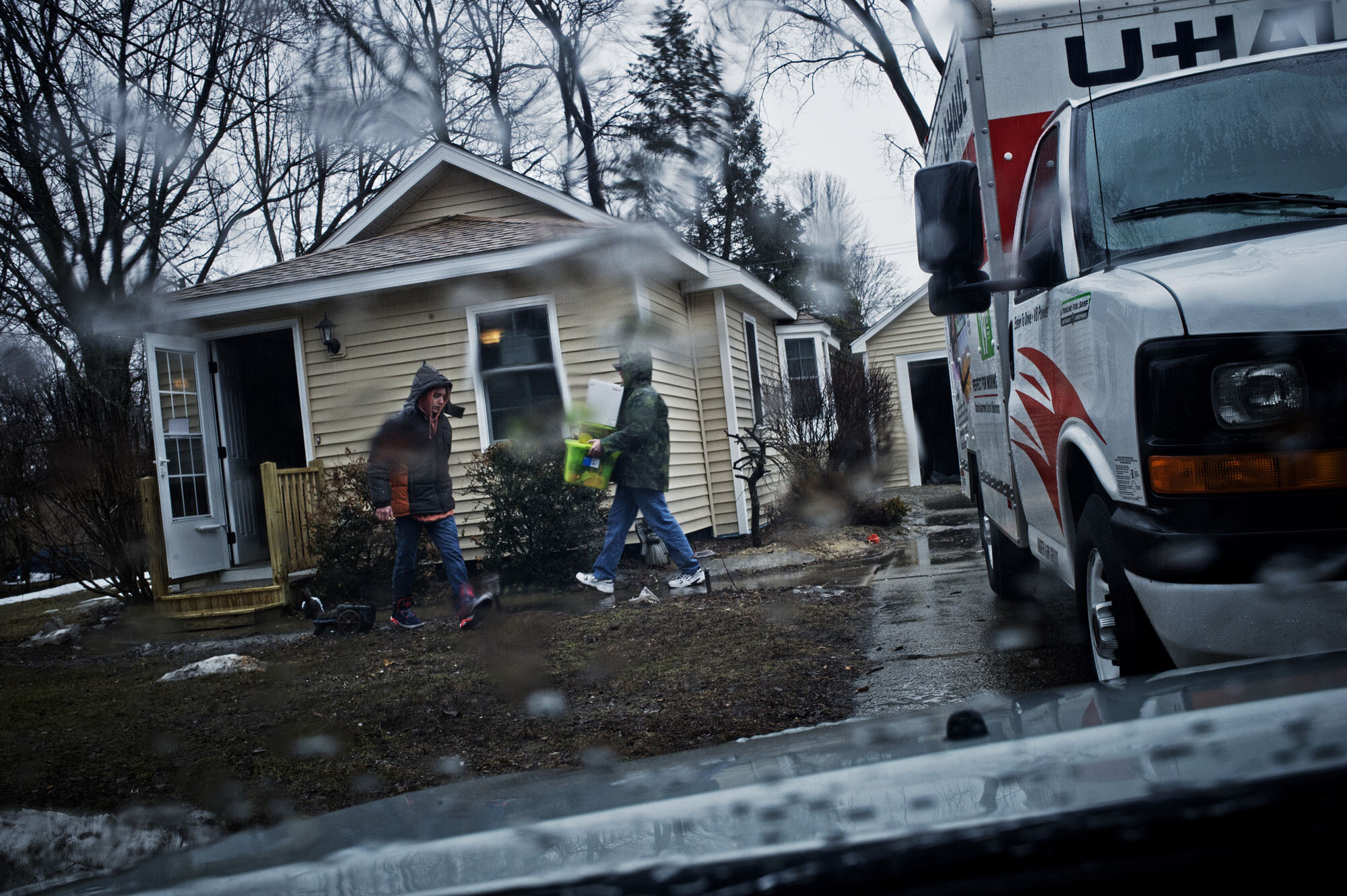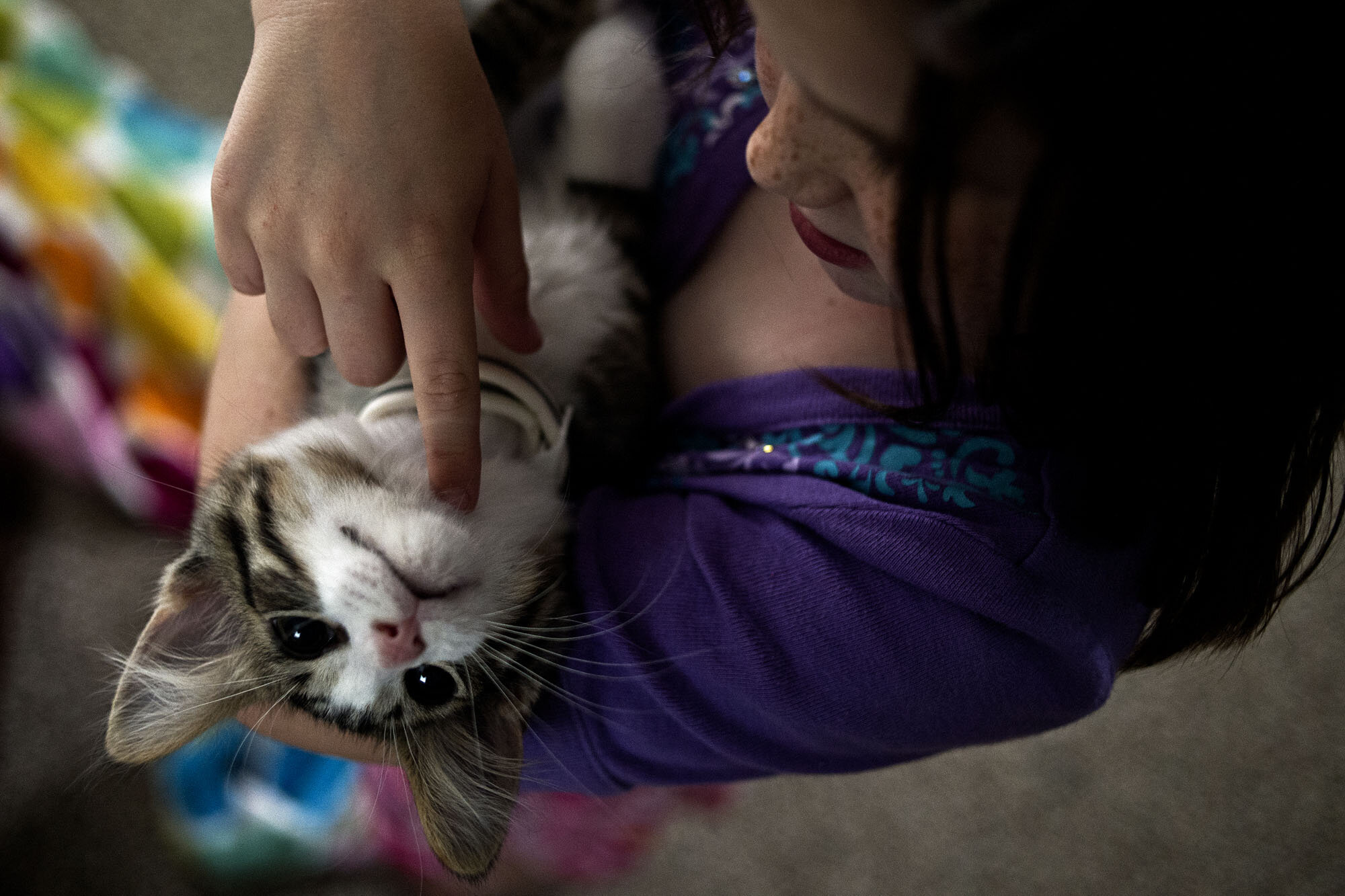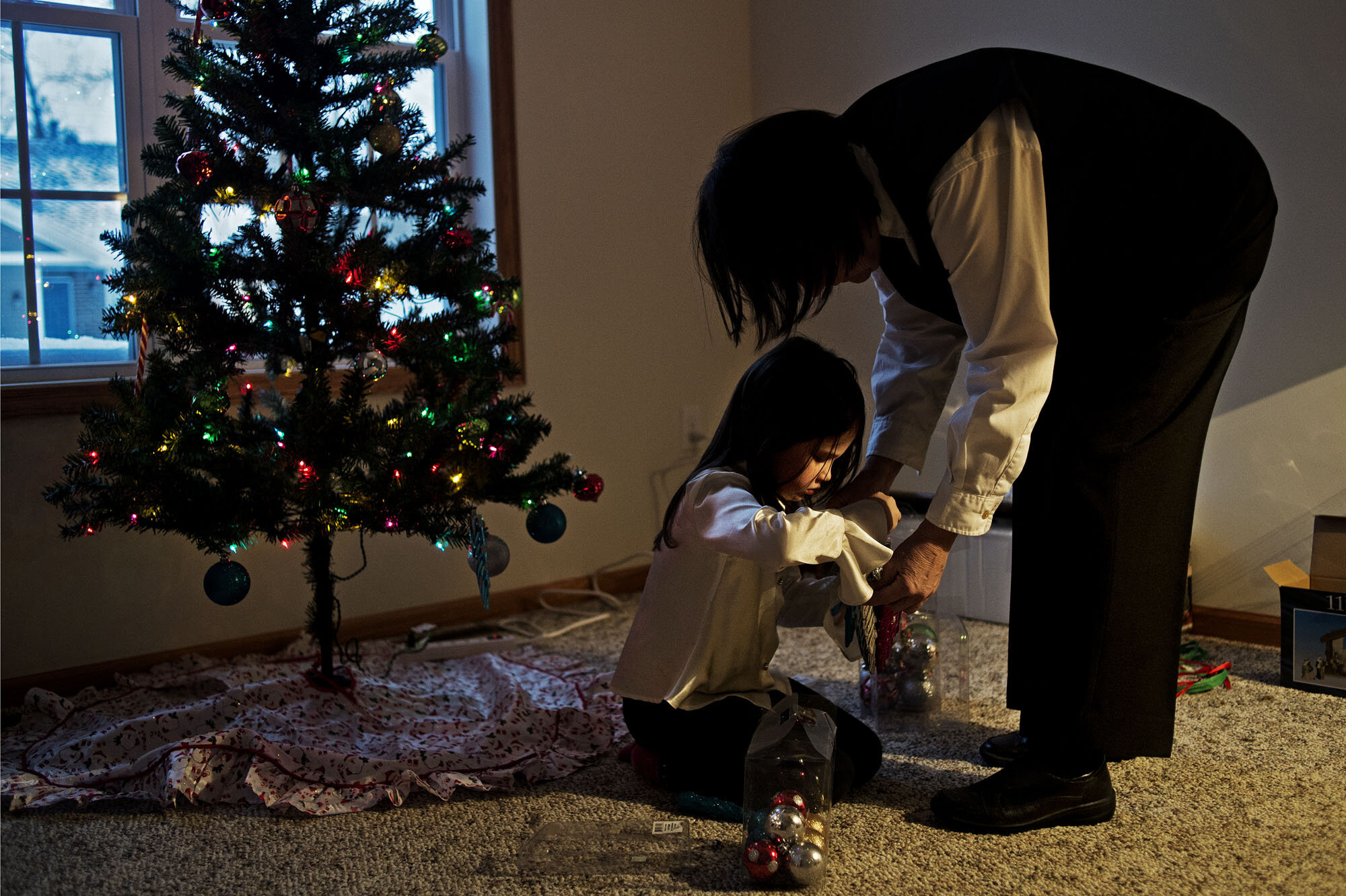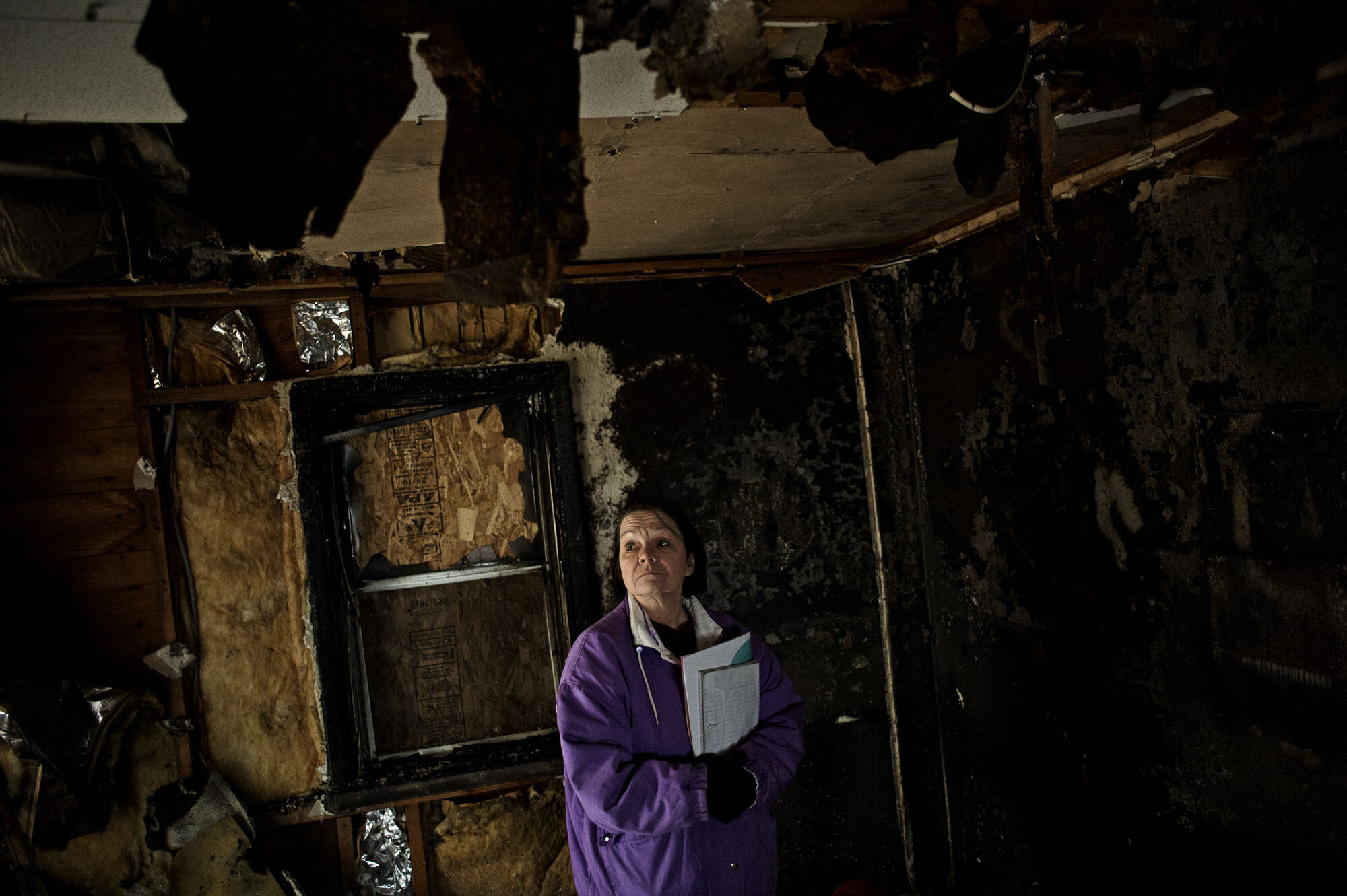 Donna Jackson inspects the damage to her Wyllys Street house on Monday, Nov. 25, 2013, a few weeks after a blaze that started when a tea candle lit Jackson's then 5-year-old granddaughter, Elizabeth Suarez, caught a cloth recliner on fire. Jackson credits the quick responses of Suarez alerting her of the fire, and then 15-year-old grandson Austin Braley's quickly getting 9-1-1 on the phone with their safety. "I don't know where we would be today or what would have happened," she said. "I'm glad Elizabeth didn't try to put the fire out or just run and hide."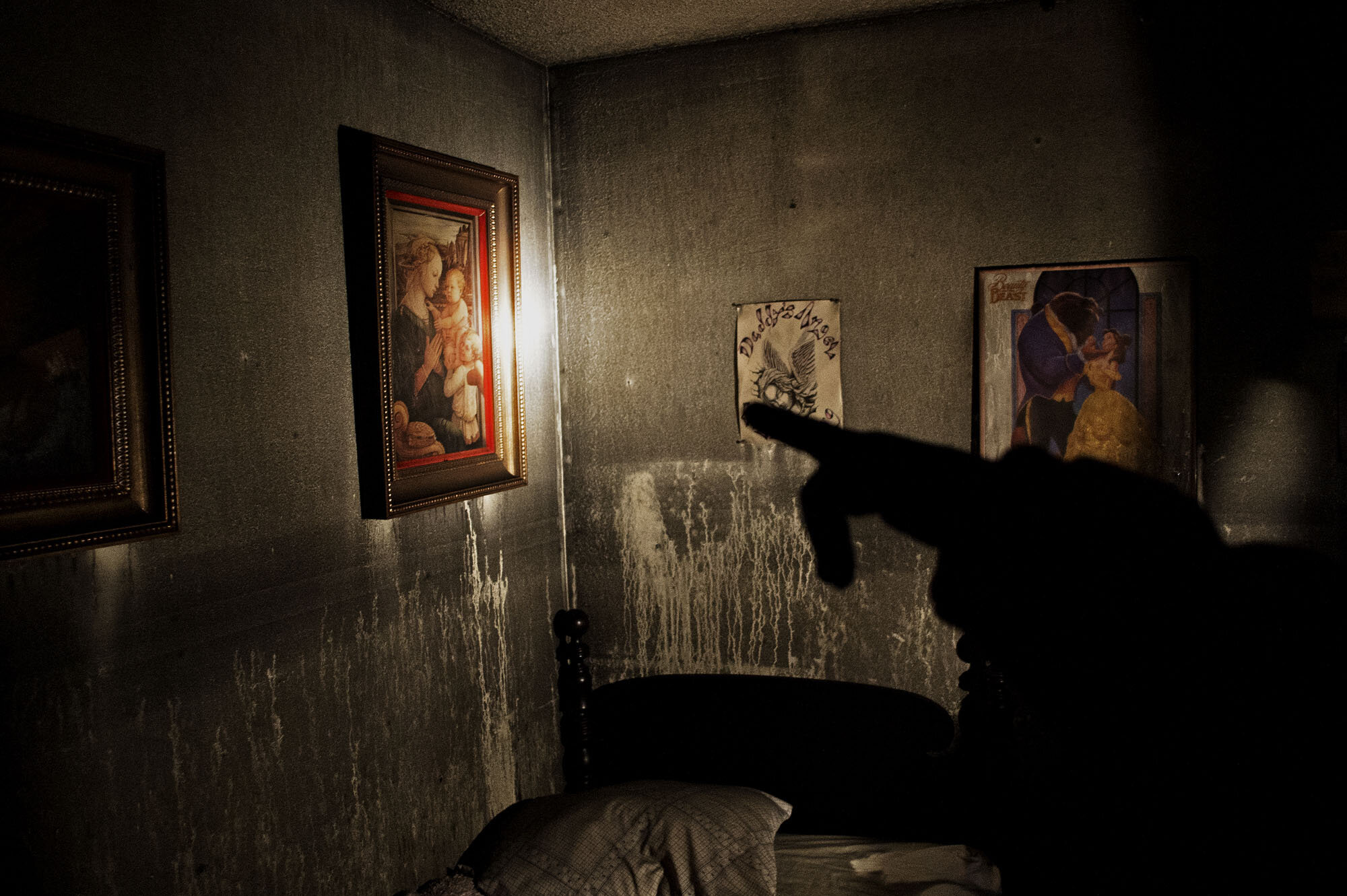 Donna Jackson and Trevor Grunder, of Wolgas Restoration, inspect various rooms on Monday, Nov. 25, 2013. Jackson said that her bibles survived the fire, as well as a couple boxes of photos and other material things saved through the cleaning process. When she initially walked through the house, she noticed several angel figurines had survived, even when everything around them had melted. "That was a good sign to me that God was watching over us." The angels still retained the smell of burnt char, so she decided to donate or get rid of them. "I don't care to have that memory floating in the air," Donna said.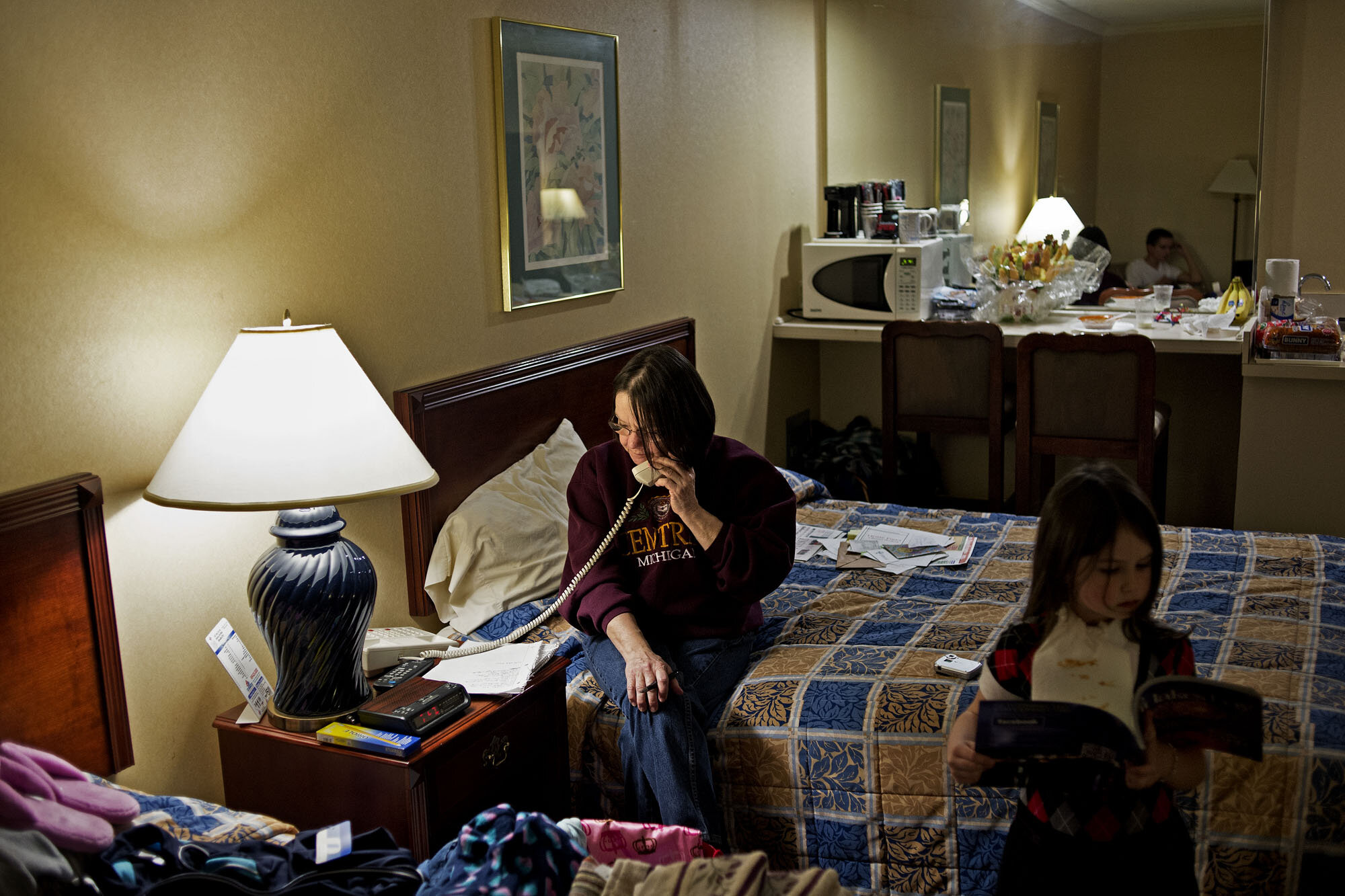 Donna Jackson listens to voice messages and returns calls while her grandchildren Elizabeth Suarez Yarger, right, and Austin Braley (in background) keep themselves busy on Wednesday, Nov. 20, 2013, in their motel room at the Valley Plaza Inn on Bay City Road. The family spent the first three weeks following the fire in a motel room there, before moving to temporary housing. "You kind of have that unsettled feeling in the process that is a little not reassuring," Donna said. "But you get through it one day, one hour, one minute at a time. However you have to do it, you just do it." Every day after work Donna said there would be encouraging phone messages and envelopes with offers of support from the community waiting for her. "It was just unbelievable," she said. "[...] It just kept bringing to mind that God is still here, he's still with us. And he's coming through in many, many people."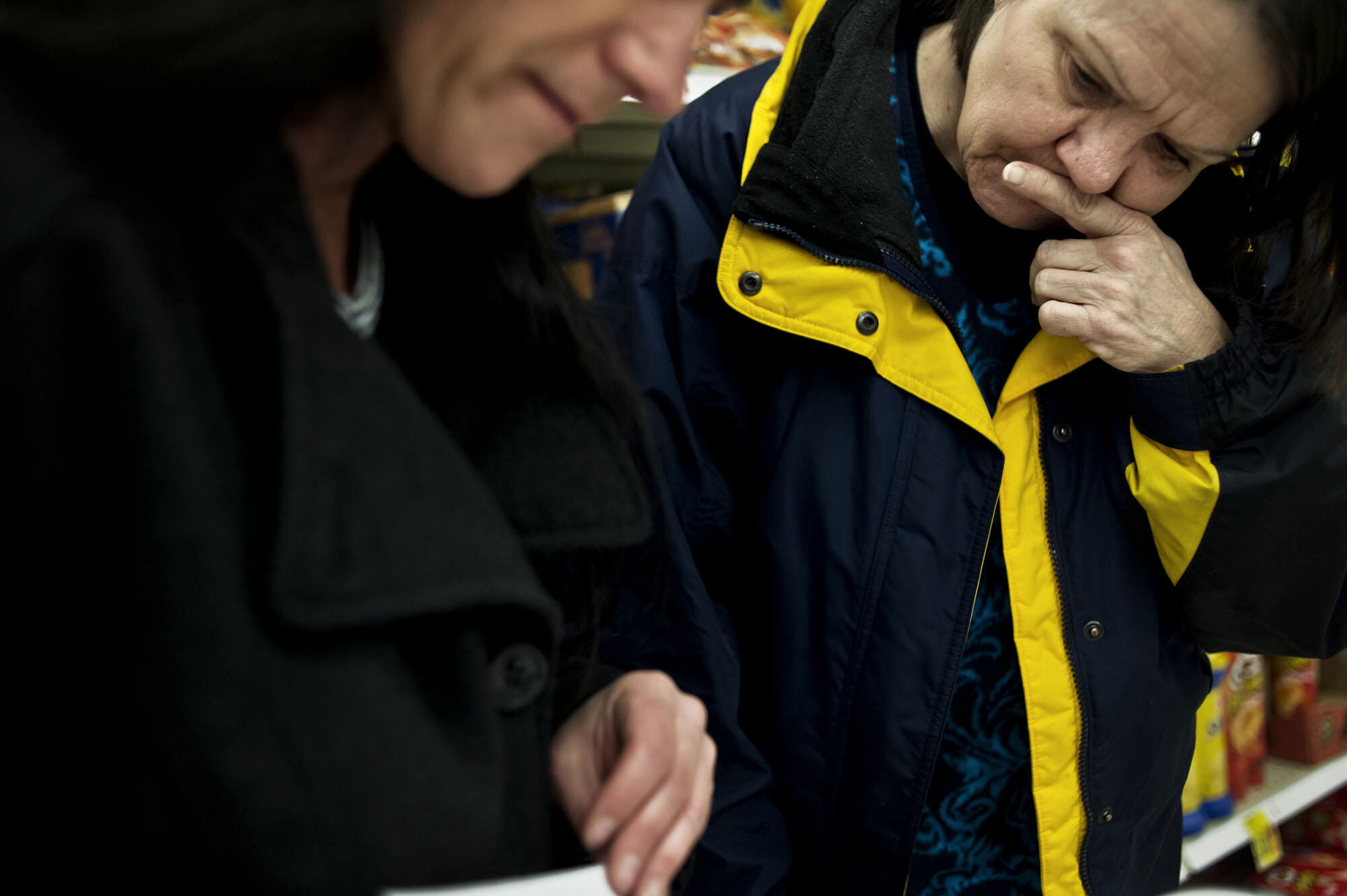 Donna Jackson and Leslie Schneider look through a list of items lost in the fire as they walk through Kroger and write down prices for insurance purposes on Wednesday, Jan. 15, 2014. "Thank God for insurance," she said. "We were well taken care of."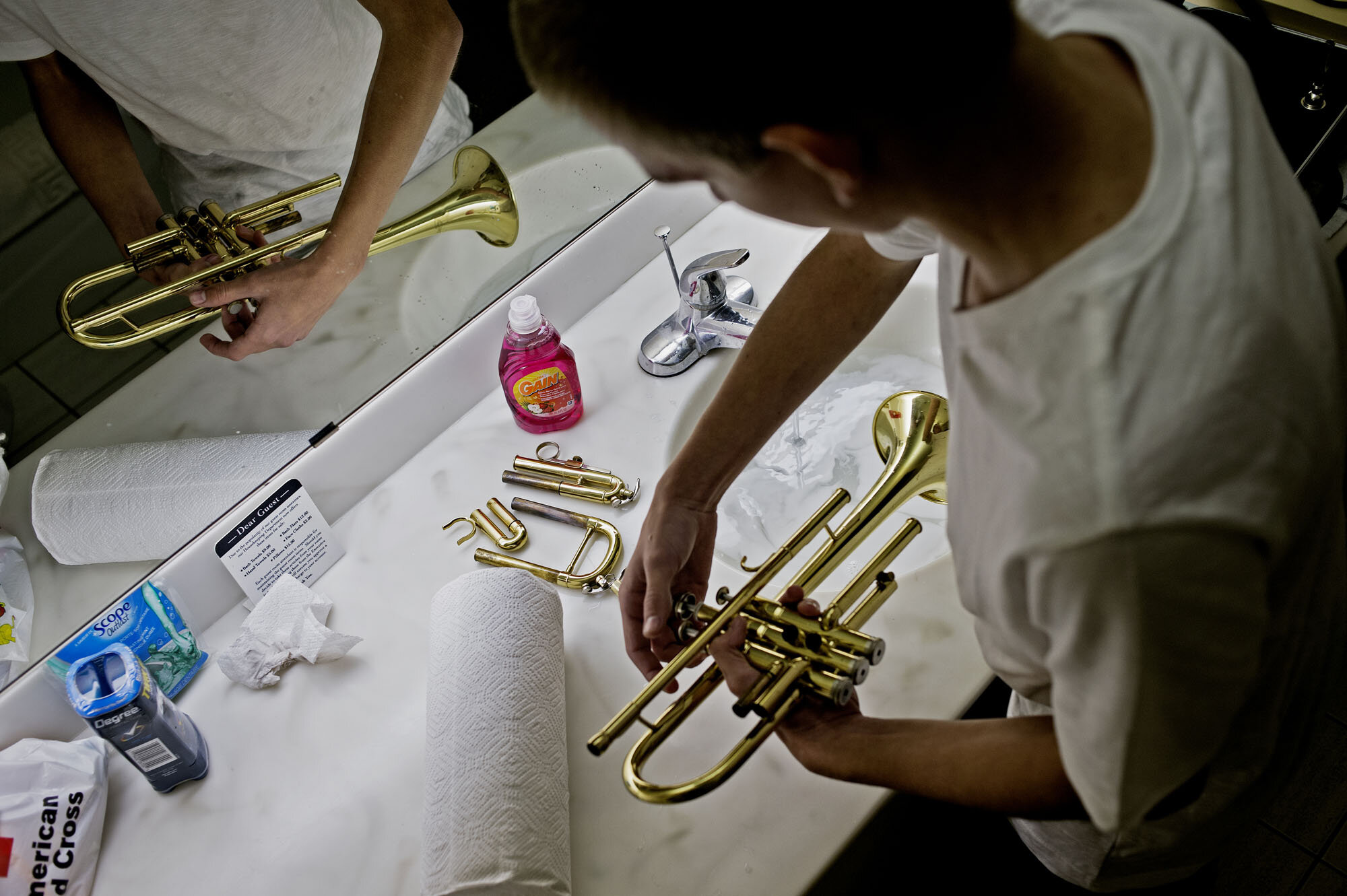 Austin Braley, then 15, cleans soot from his trumpet in the bathroom of their room at the Valley Plaza Inn on Wednesday, Nov. 20, 2013. Braley plays in the Midland High School Marching Band. Many material possessions were damaged, some beyond repair, in the fire.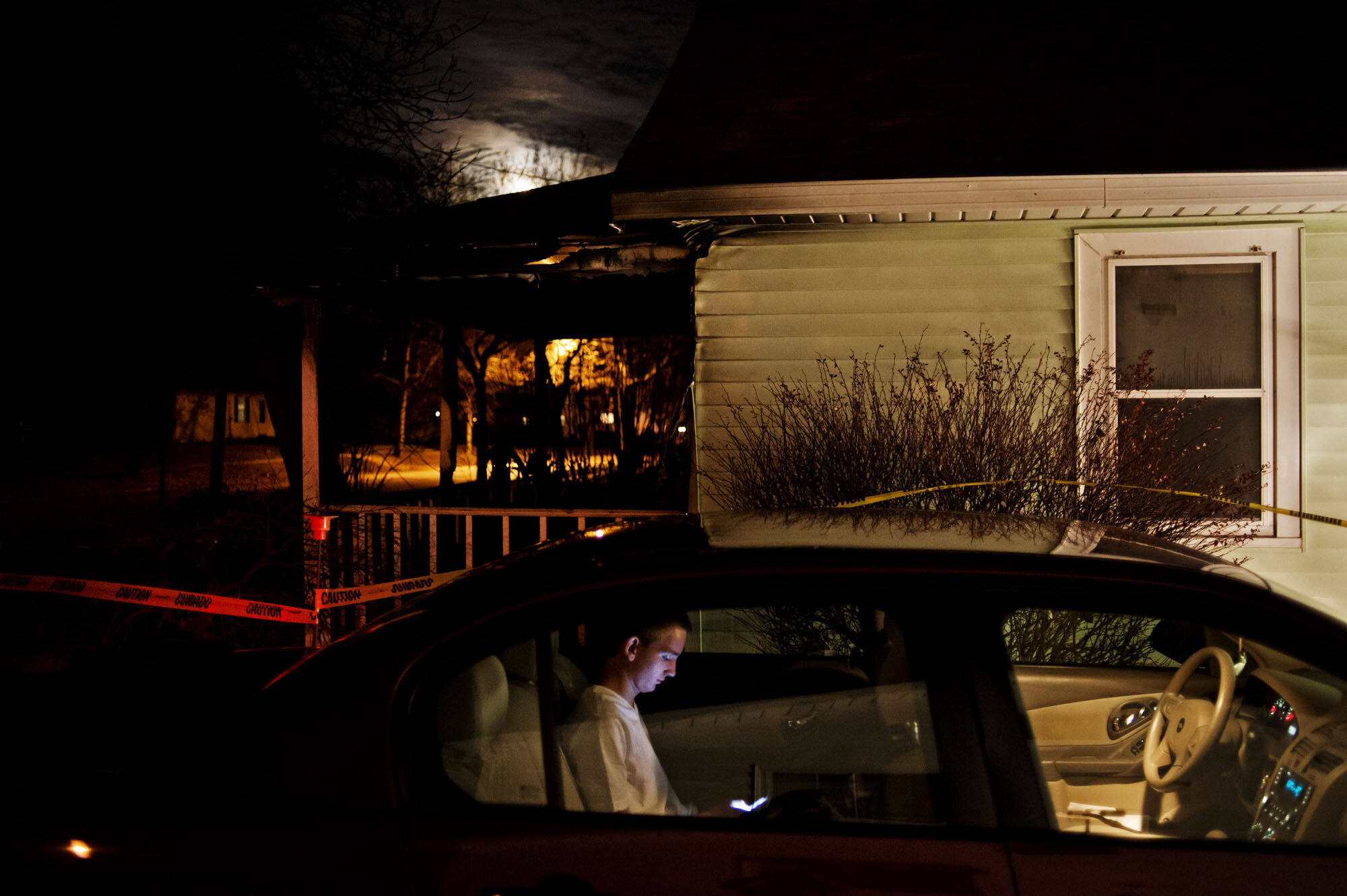 After retrieving his Midland High School Marching Band uniform from his room in the burnt house on Wyllys Street, Austin Braley, then 15, plays with his new phone in the back seat of his grandmother, Donna Jackson's, car while she talks with neighbors on Wednesday, Nov. 20, 2013. Braley's uniform had to be taken to a cleaners to remove the soot and smell.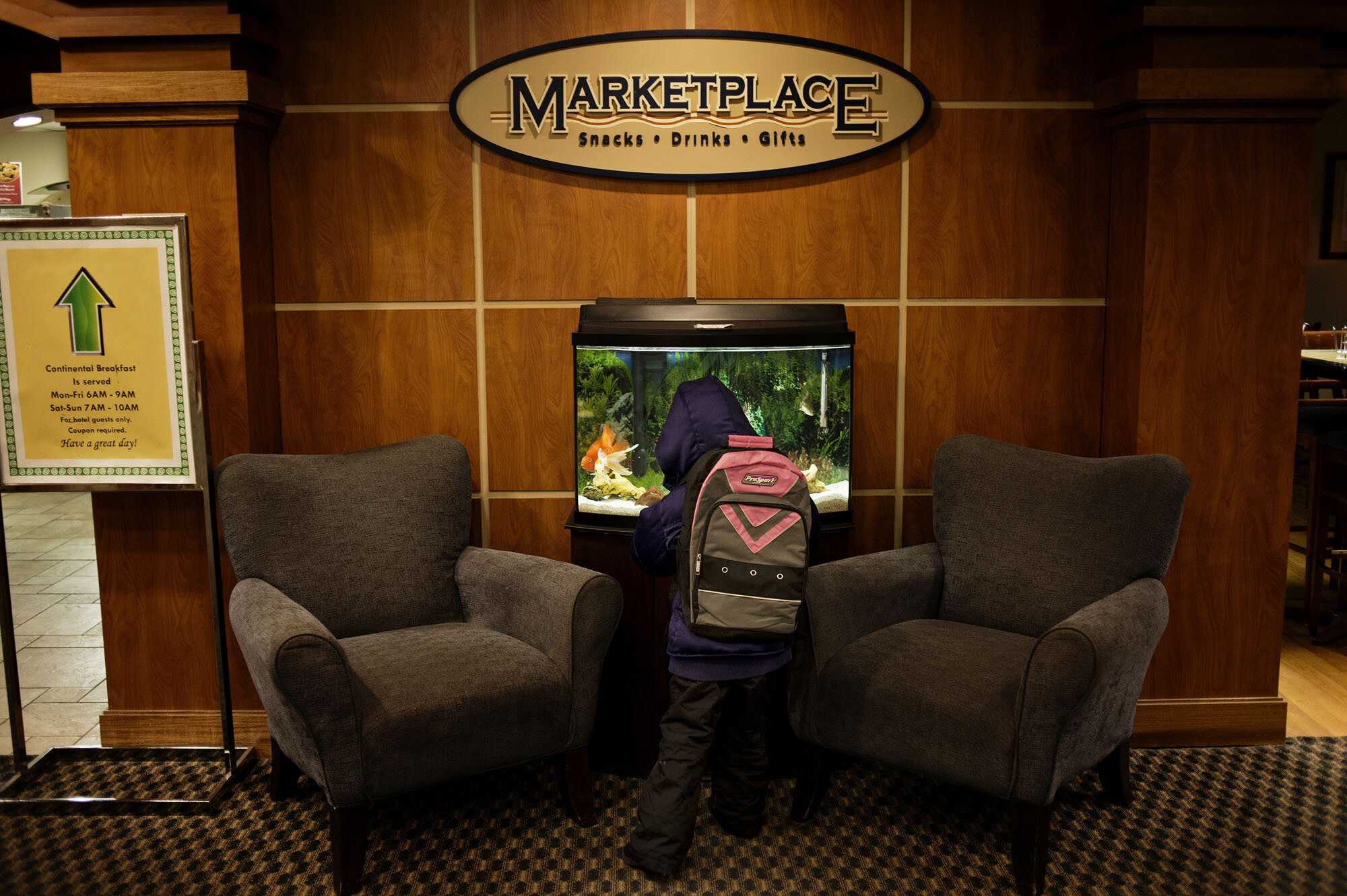 Elizabeth inspects a small fish tank in the lobby of the Valley Plaza Best Western while waiting for the school bus to pick her up on Monday, Dec. 2, 2013. Donna said that one evening after the fire Elizabeth started crying and said "I'm so sad we lost the kitty and our house burned down, and I lit the candle," but Donna refuses to hold it against her. "I know fire is a curiosity for kids, I can't spend the rest of her life condemning her for it," she said. "I reassured her that accidents happen [and told her] I hope you learned that you will never play with matches again."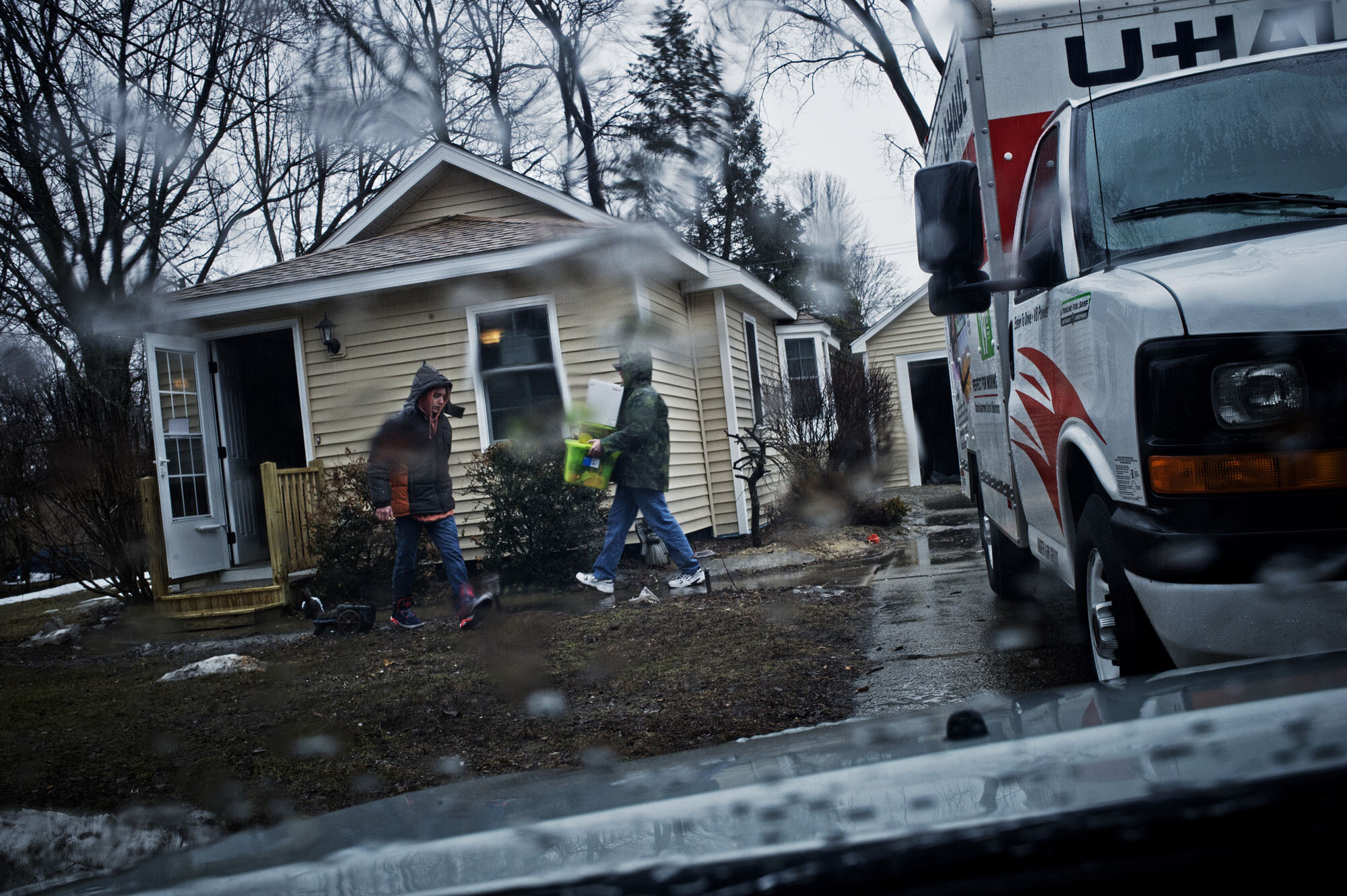 Austin and his father, Greg Braley, trudge through the rain and unload boxes off a U-Haul and into the completely restored home on Friday, April 4, 2014. Though the weather was less than savory, Donna said she was happy to finally be returning home. "The thoughts may never leave about what could have happened," she said. "But it makes me appreciate it more. [...] I feel secure being here, and so do the kids."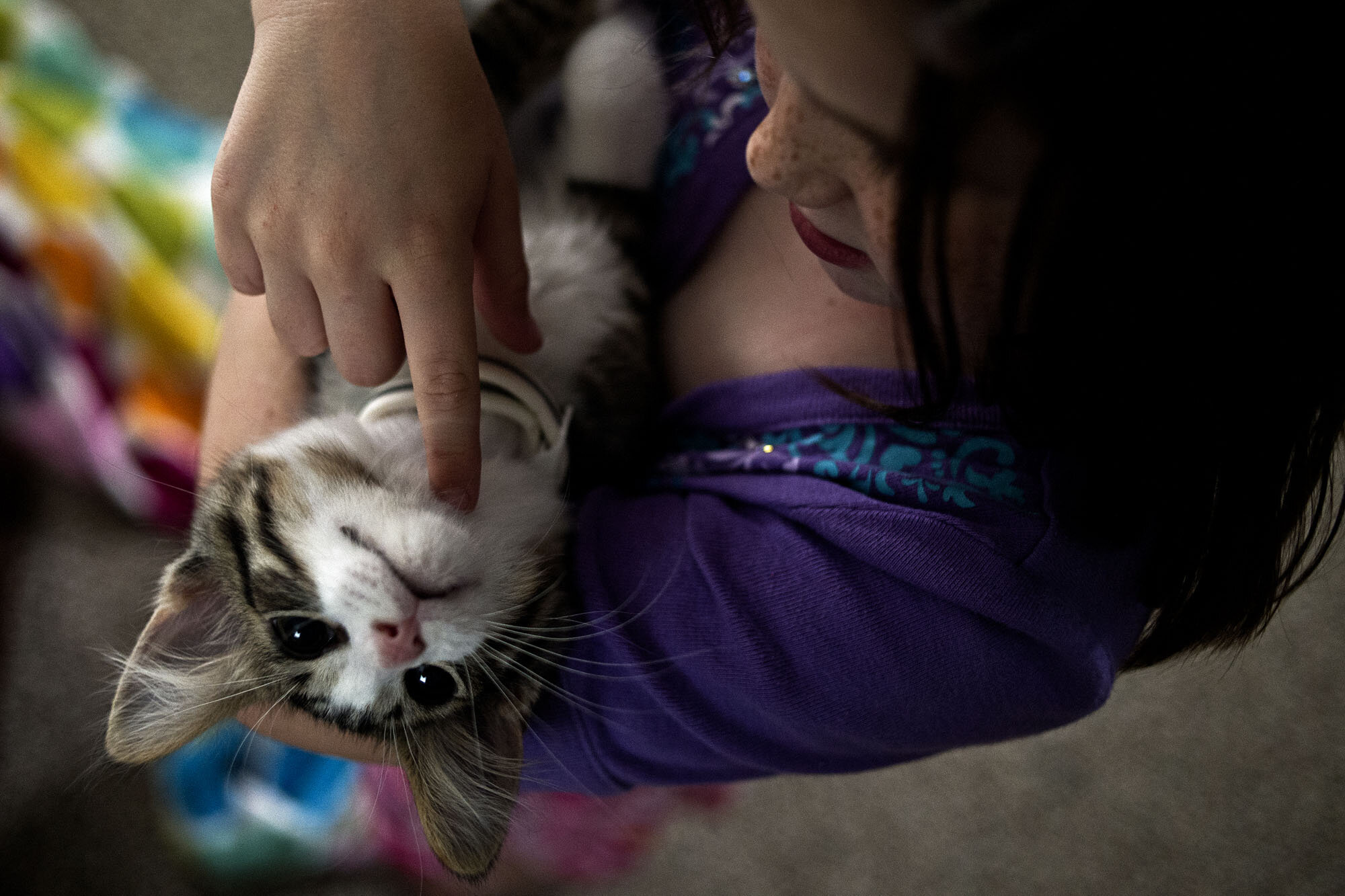 Elizabeth, now 6, plays with her new kitten, Soxy, on Tuesday, Aug. 26, 2014, in the living room of her Wyllys Street home. Following the fire, Donna promised Elizabeth they would buy a new cat for Elizabeth to raise after moving back. Even after having lived in the house for several months, Donna said there is still a lot of busy work to do.
Donna talks with Keri Millbocker, of Midland, around a fire on Saturday, Sept. 6, 2014, during a house-warming party. "You wouldn't think a house that burned down would want to have a fire, but that's how we roll," Greg Braley, Donna's son, said. The house-warming party was delayed several months while Donna settled in, unpacked and filled out insurance paperwork. Though she said there is still some work left to do, she's happy to be back home. "There comes a time in your life when less become more," she said. "I've learned to value things a little differently. It makes you shop a little different, it makes me want to live a little simpler."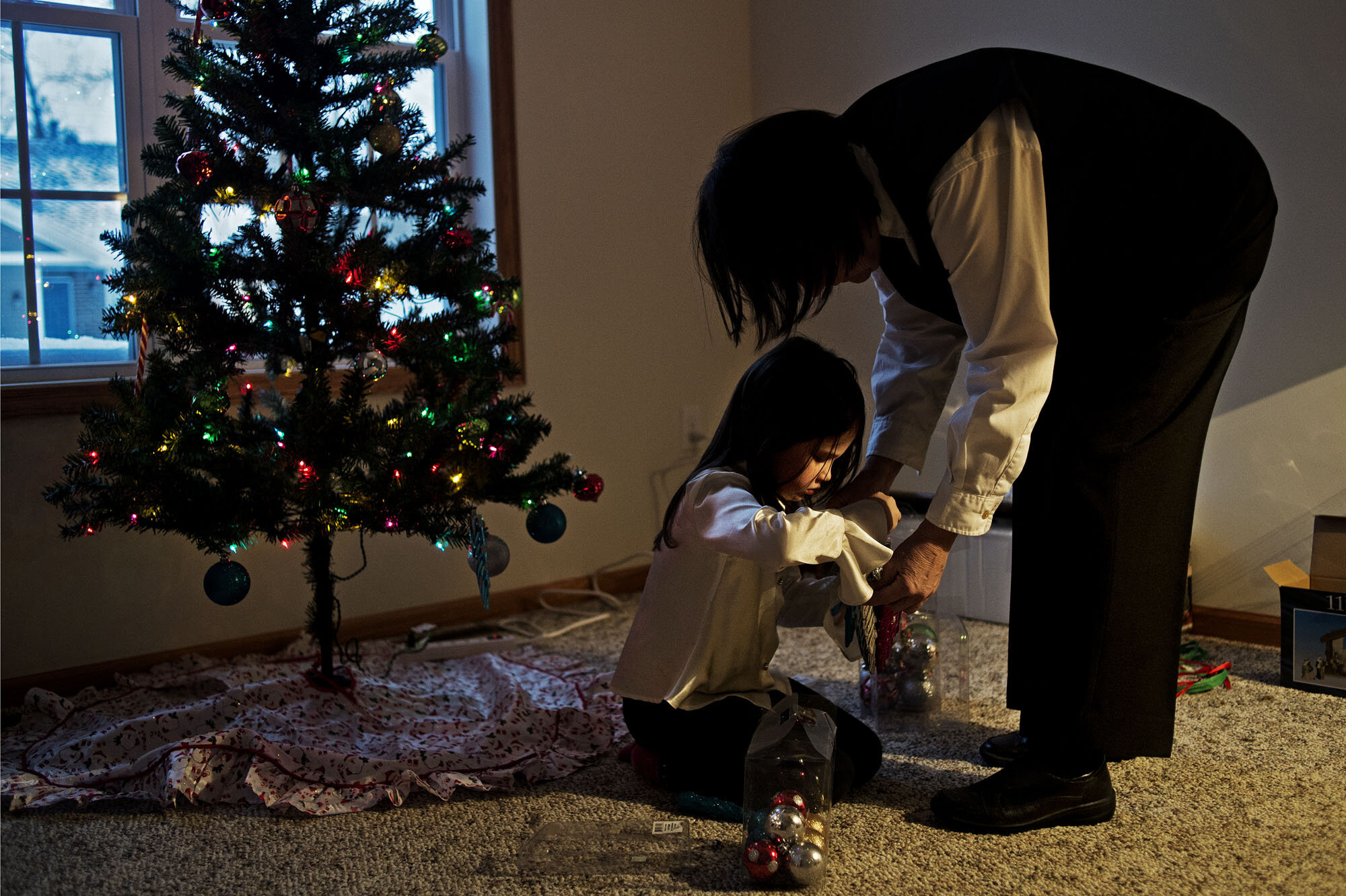 Donna helps Elizabeth put ornaments on their new Christmas tree before heading to work on Thursday, Dec. 12, 2013. Despite being displaced from the blaze, Donna said she tried her best to keep a sense of normalcy for her grandchildren, especially during the holidays. "I think it's a fair trade off," she said about raising her two grandchildren. "I give them a little bit of stability in their life, which I think they need, and they give me a purpose, which I need. I'm very proud of them, very proud of how far they've come."
Austin reaches his hand out to Grace Houseal as he jokingly hides in a box while helping unpack items in their new temporary housing on August Lane on Wednesday, Dec. 11, 2013. Jackson and her two grandchildren spent approximately four months in temporary housing while their Wyllys Street house was restored. "It was very nice, very new, very comfortable, but it still wasn't home," Donna said.
1
2
3
4
5
6
7
8
9
10
11
12