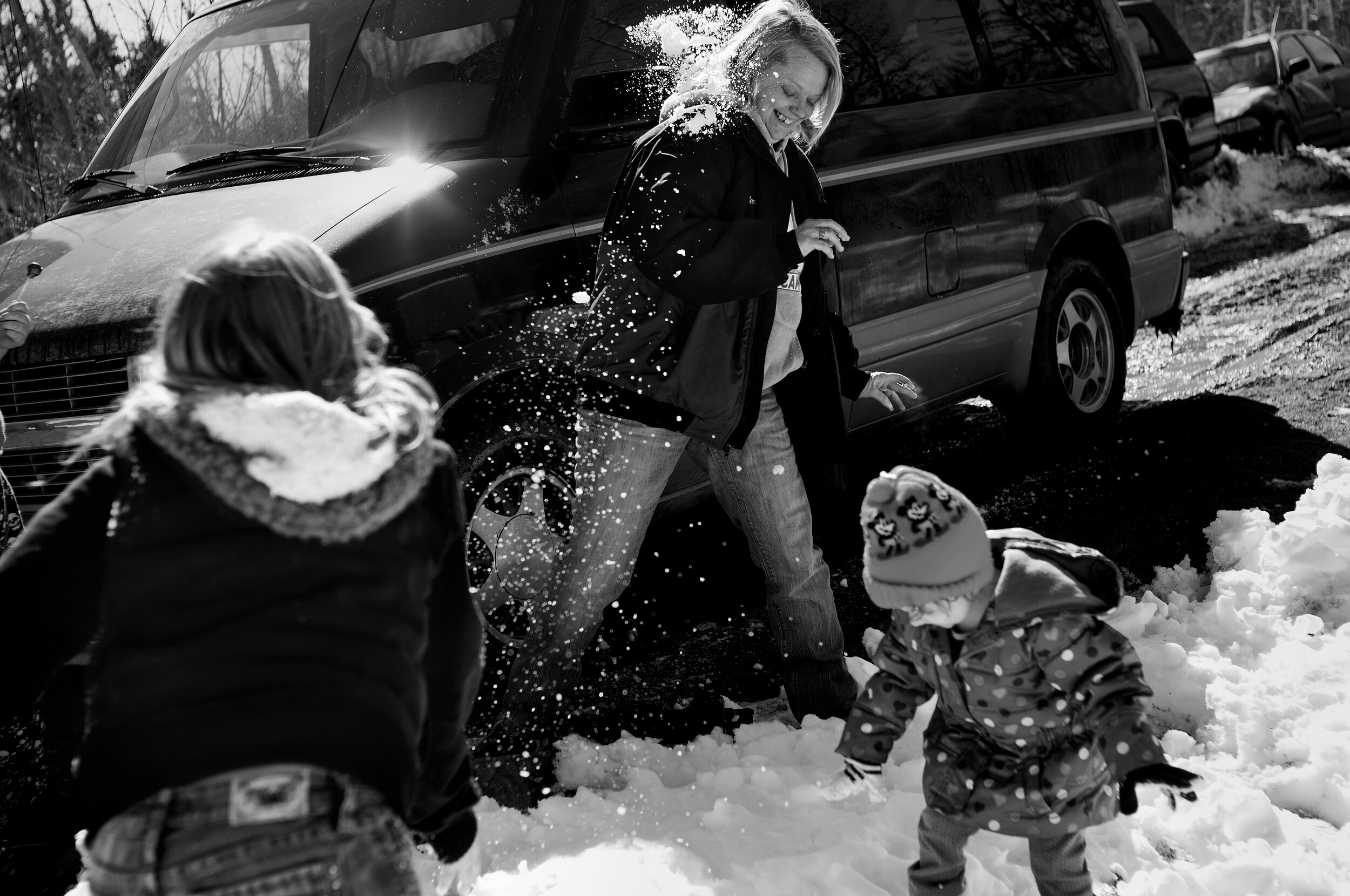 Bill Parsons, of Lee Township, Mich., leans against the kitchen counter at home Thursday morning, April 7, 2011. He is preparing to try and remove the engine block from his Chevrolet Suburban, which he is trying to sell. Bill, who was diagnosed with severe depression, went through several different regimens of medicine that drastically changed his mood, forcing him to quit his job. He recently found a medication that settles him down. However, being without a job, he still finds himself stuck at home, while his wife, Penny, uses their sole vehicle to get to work.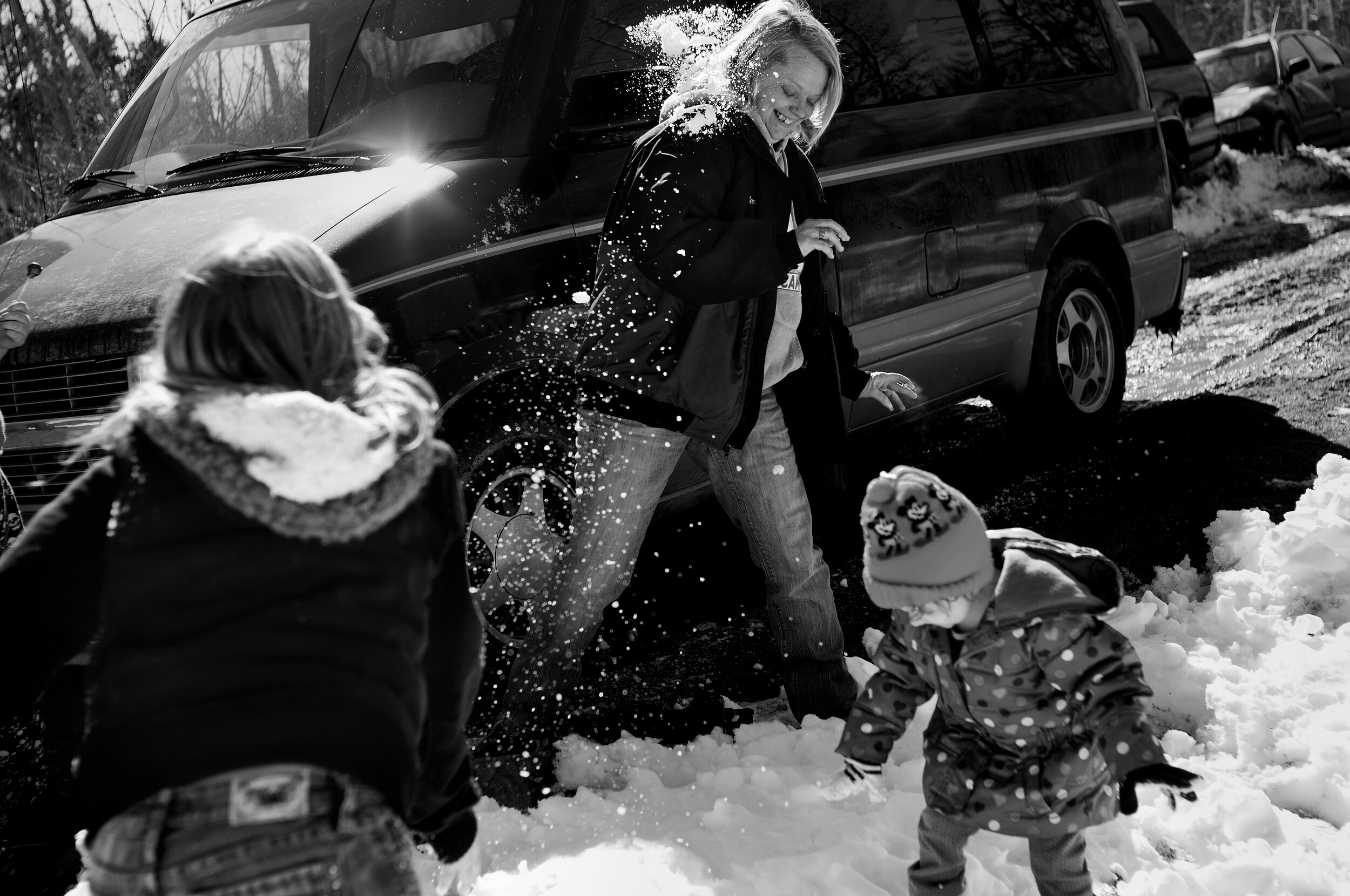 Penny Parsons plays with her daughter, Anastasia, 12, and granddaughter Audrieanna, 2, after pulling into the driveway following a full day's work on Monday, March 28, 2011, at the Arnold Center in Midland, Mich. The Parsons' children, twins Autumn and Anastasia, and Matthew, 11, are on spring break from Bullock Creek Middle School, and have spent most of their time at home with their father, Bill. Audrieanna, the daughter of the Parsons' oldest child, Nicole, 20, spends her days with Bill and Nicole's boyfriend, John Gimlich, 21, both of whom live in the house.
Bill and Penny Parsons share a cigarette and talk about financial issues on Wednesday, March 30, 2011, at home during a pre-birthday celebration for Penny. Just days before her actual 42nd birthday, Penny will be in the hospital recovering from a hysterectomy. The couple aren't sure if, or how much of, the procedure will be covered by Medicaid. Penny's brother, Richard, and his family are present for a night of card games, beer and movies. When the twins saw their mother drinking, they asked why, when they knew she had to work the next day. "'Cause it's something we haven't done in a long time," Penny replied. "I'll still go to work tomorrow." After this comment, they retorted, "if you have gas…"
Bill changes out a light bulb in Autumn and Anastasia's room on Tuesday, March 29, 2011. The Parsons use energy-efficient lightbulbs to help save on costs. "Every little bit helps," Bill said, who will reuse the same coffee grounds at least four times a day before changing them. The Parsons also grow as much food in their yard as possible, which is difficult due to the high iron content of the soil. They also frequent Save-A-Lot because of the constantly lower prices on groceries. They choose to spend their time at home, playing games around the table or watching television. "Not going out saves money," Bill said.
Bill Parsons relaxes on the coach with his laptop on Tuesday, April 26, 2011, as his feet continue to stretch the remaining fibers of thinning fabric that hold his weathered socks together. With only one income to cover household costs, the Parsons lead a life void of luxury.
Penny packs her sack lunch in a plastic grocery bag before heading off to work on Friday, April 8, 2011. Both Bill and Penny worked at the Arnold Center, before Bill, unhappy with the minimal raise he was offered, quit and decided to go to school for truck driving. After completing school four years ago, he never heard back from a company who promised him a job, and then had to stop working altogether due to his depression. "I guess part of the blame I can put on myself. You know? Leaving a steady job and trying to do something better. It was just a shot in the dark...And it didn't work out," Bill said. "I don't really blame anybody or anything, it's just the way it is," Penny said.
Bill Parsons and John Gimlich work on removing the engine block from the Parsons' Chevrolet Suburban on Friday, April 8, 2011. They are planning to move it to the family's van, which would marginally increase its gas mileage. After switching out engine blocks, Bill listed the Suburban on Craigslist in hopes of making some extra money, but has not received any response. "Every time it seems like we start to get ahead, something else goes wrong. We were doing really good, I was getting stuff ahead, and then all of a sudden the fuel pump goes out in the van, so that puts us $300 behind again," Penny said. "There's always light at the end of the tunnel, though."
Bill pumps gas in Midland on April 26, 2011. "Now that I hope they've got the proper combo of drugs, I'm hoping to get off my ass and get back to work," Bill said. With only one car between the two of them, Bill and Penny often plan out the most effective route on the trip to knock out as many errands as possible, saving on gas. However, with the price of gas continuing to climb, it has not been easy on them.
Matthew, 11, opens the van door to get milk on Tuesday, March 29, 2011, after coming home from the West Midland Family Center. The three kids go to the center after school to practice their instruments, do homework or hang out with friends.
Anastasia lifts up her niece, Audrieanna, 2, and spins her around in the living room of their home on Tuesday, March 29, 2011. "If we didn't have such a close family because of this [financial issue], we would just get on each other's throats, because we are always home together all the time. It's just made us more of a team, you know? If even one person gets out of sync, then the whole thing comes crashing down on us," Penny said. Penny and Bill led different childhoods than those of their children. Bill was raised in an abusive household. "The difference between then and now is like night and day. I would do anything I can to stay away from that lifestyle," Bill said.
Bill and Matthew walk out of the West Midland Family Center with twins Autumn and Anastasia lagging behind as they head back home on Thursday, April 21, 2011.
Bill and Matthew walk out of the West Midland Family Center with twins Autumn and Anastasia lagging behind as they head back home on Thursday, April 21, 2011.
1
2
3
4
5
6
7
8
9
10
11
12